Product Overview
FuzzyPatternMatch is a function that searches for figures that have shapes similar to that of a template figure. A template figure can be created either by selecting a figure, or specifying an area on the LAVIS-plus view. To search for similar-shape figures in the search target file, the tolerance, precision and other parameters can also be specified. By overlaying the searched similar shape figure on the search target file instantly pinpoints its location.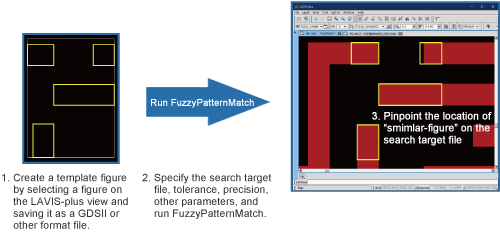 Operating Environment & Supported Format
Operating environment and supported format comply with that of LAVIS-plus.
Contact
For details about the functions and any other questions, please feel free to contact our sales representative from Contact.