An "IC design visualization tool" that can not only be used as a layout viewer, but also as an electrical characteristics analysis tool, a simple design checker, and simple editor.

An " OASIS data handling tool" that consists of varieties of functions including direct handling of LSI layout design format OASIS, interconversion between OASIS and GDS or OASIS and text data, hierarchy expansion of cells, format and regulation checks, dumping of OASIS data in text format, hierarchy information output in list format.

A "resistance value calculation & analysis tool" that provides intuitive verification of point-to-point R, and calculations of current density, current value, and voltage.

A "fracturing system" that quickly converts layout design data to a high-quality mask writing format.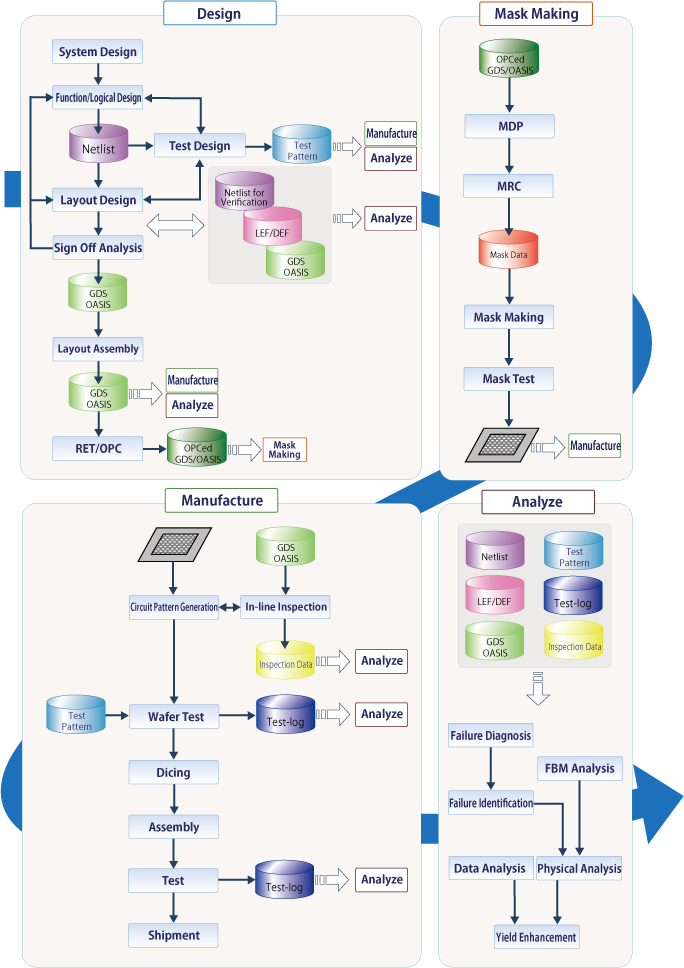 DRC/LVS error analysis
Node tracing
Electrical characteristics analysis
Width//Spacing check
STA error analysis
Simple editing
Data comparison


Resistance value calc
Current density calc
Voltage calc
Color map



Data merge



Lithography check


Mask data conversion
Data comparison


LEF/DEF/GDS/OASIS validity check
Layout analysis/Reasoning
- Node tracing
- Net/instance/area search
- Power/clock check
- Layout display
- Image overlay
- Figure shape check
- Density calc


LEF/DEF/GDS/OASIS validity check
Layout analysis/Reasoning
- Node tracing
- Net/instance/area search
- Power/clock check
- Layout display
- Image overlay
- Figure shape check
- Density calc



Layout display



Layout clipping/display
3D/Cross-section view
Simple editing



Density calc
Color map display



Tape-out check



CD measurement


・Input data check